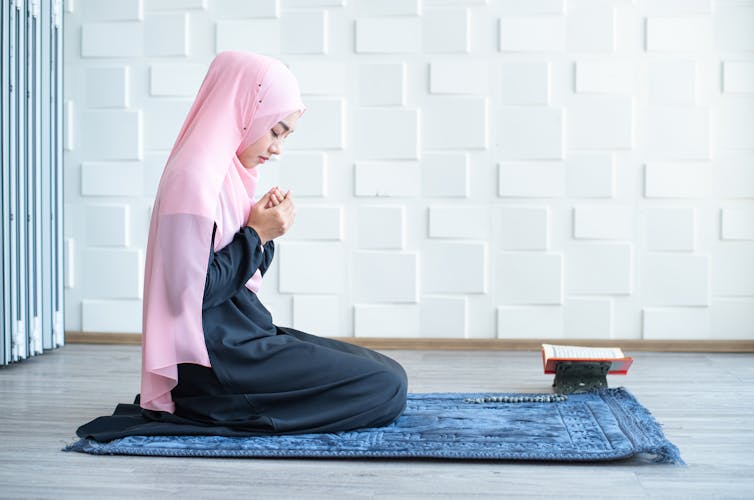 Amaarah DeCuir, American University
Ramadan – the Islamic month of fasting – is set to begin on March 22, 2023. Amaarah DeCuir, who researches Muslim student experiences, offers insights into how public schools are moving toward greater recognition of the sacred Islamic month.
How many Muslim students are enrolled in public schools in the US?
There are 3.85 million Muslims in the United States. Of that number, 1.35 million are children.
Although this may only represent a small portion of public school students nationwide – and many Muslim children attend private Islamic schools – Muslim students are a part of a 60% majority of students in public schools who say that religion is important in their lives.
What are public schools legally obligated to do for Ramadan?
Federal law – specifically Title VI of the Civil Rights Act of 1964 – protects all students from discrimination based on race, color or national origin. This includes students of any religion.
In 2020, the U.S. Department of Education issued guidance on constitutionally protected prayer and religious expression. This gave school leaders detailed information on federal protections for students who seek to practice their religion during the school day. These guidelines help schools prepare adequate accommodations for Muslim students year-round, including during Ramadan. The guidance specifically mentions Ramadan and says Muslim students also have constitutional protections that permit them to pray during non-instructional time, as long as it doesn't disturb other students.
What are the benefits when schools recognize Ramadan?
Research shows that students have a stronger sense of belonging, have better well-being and do better academically when they attend a school that fosters a positive environment that recognizes the diversity of the student body.
By contrast, students who experience discrimination and bias tend to suffer academically. High-quality, supportive school environments create excellent teaching and learning for all students.
What are specific ways that schools accommodate students who fast?
During Ramadan, Muslims abstain from food and drink during daylight hours. Muslim students who fast may request to sit away from the school cafeteria to avoid the sights and smells of food.
Alternate seating minimizes physical discomfort and supports other experiences like reading, quiet play or rest during lunchtime. Muslim students often prefer to sit in the library or a favorite classroom during their lunchtime, ideally with other Muslim students observing the fast.
Students who have not reached puberty, female students who are menstruating at the time and students who are ill or traveling are exempt from fasting during Ramadan.
How have Muslim students experienced Ramadan in public schools?
Although fasting does not prohibit studying and completing schoolwork, some fasting students may notice that they experience fatigue, headaches and daytime dehydration when fasting. Others notice increased energy and focus and better sleep.
Muslims begin abstaining from food and drink at dawn, typically one hour before sunrise. The exact time changes with the seasons and geographic location. During Ramadan 2023, which falls in March and April, fasting students may wake up as early as 5 a.m. to eat, drink and pray. By the end of the day, studies have shown that students may have less cognitive focus, in addition to fatigue and exhaustion.
Some Muslim students struggle with academic assessments and complicated tasks scheduled in the late afternoon during Ramadan. They may seek permission to take tests early in the school day when they are more alert and able to focus on complex tasks.
Muslim students break their fast at home or the mosque at sunset. After the meal, families may join nighttime community prayers at the local mosque, for about two hours. These traditions and routines limit students' abilities to complete typical homework assignments and after-school activities. Some students opt to do homework early in the morning when they are more alert, but some after-school programs like athletics and clubs are not easily postponed. Schools can support Muslim students by modifying expectations for after-school engagement during Ramadan.
What about doing physical education or sports during Ramadan?
Muslim students who have physical education classes during Ramadan may ask to avoid cardio-intensive activities when fasting to avoid exhaustion and dehydration. Instead, they may opt for moderate strength training with periods of rest.
Young Muslim athletes might not perform as well as they usually do at the start of Ramadan, until their bodies get used to fasting. Older student-athletes adjust their workout schedule during Ramadan to prepare for competitions. Muslim student-athletes rely upon coaches to adapt physical training during Ramadan.
How have college students recognized Ramadan on their campuses?
Muslim students in higher education have long traditions of hosting annual Fast-A-Thons to invite fellow students to fast in community with them for one day in Ramadan. Dating back to 2001 at the University of Tennessee, Muslim Student Associations, known as MSAs, continue to promote Fast-A-Thons to raise awareness of Ramadan and Muslims. Occasionally, groups fund-raise for social justice causes like local and global hunger. Today, many college campus MSAs invite other students to fast for a day and host events to enjoy the sunset meal together.
How many school districts close for the end-of-Ramadan festival?
Approximately 15 U.S. public school districts were closed last year for Eid al-Fitr, the holiday that follows the month of Ramadan. This year, at least four additional school districts added Eid to their school calendars as a student holiday. Eid ul Fitr this year is expected to be observed on Friday, April 21.
Amaarah DeCuir, Senior Professorial Lecturer in Education, American University
This article is republished from The Conversation under a Creative Commons license. Read the original article.